Your home may be repossessed if you do not keep up your payments
They say hands build a house and hearts build a home, but what does it actually take to find that special place?
Somewhere to invite friends for summer barbecues and build snowmen with the kids; a place to create lifelong memories and grow old in — we call it the forever home.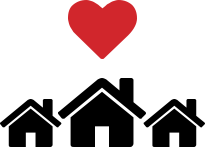 4,000 people, 4,000 stories…
We surveyed the nation to discover what it takes for us to settle down in our ideal forever home and now we'd like to share the results with you.
Answer the questions below and you can see how you stack up against other people in your area!
Based on a survey of 2,000 homeowners and 2,000 renters based in the UK. The survey was conducted by OnePoll in April 2016 on behalf of first direct.
See my journey
We don't like putting people into boxes but…
How old are you?